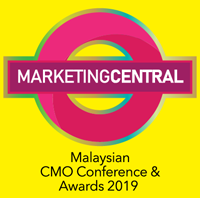 Malaysian CMO Conference 2019
Sime Darby Convention Centre, Kuala Lumpur
The Malaysian CMO Conference 2019 is themed Marketing Central:
Marketing is at an interesting intersection now. With major cross winds in the global trade environment, every brand is affected with more uncertainty than ever before. We explore how brands are winning with big data and marketing automation. We study what brand resilience is all about. We question what works and what doesn't. In a world of 'fake everything', the quest and need for authenticity has never been more challenging.

Journey with our speakers and learn from our inspiring panel discussions as you centralise your focus on innovative pathways to marketing success.
Into its 7th year, the Malaysian CMO Conference has become
a landmark event for all serious marketing communications
and media professionals. Apart from learning cutting–edge
knowledge and listening to real–market experiences from the
speakers and panelists, it is also a great opportunity to network
with thinkers from the marketing, media, advertising, digital and
content ecosystem.
Marketing, Brand & Product Managers
Advertising, Media and Digital Executives & Entrepreneurs
Media Players – Traditional & Digital
Business Development Managers
VJ Anand
Senior VP of Creative & Executive Creative Director
Gojek
Srikanth formed Moving Walls – a start up with a vision to tackle Digital's Final Frontier. His achievements across his corporate and entrepreneurial life include: establishing and growing IBM Singapore's e-business team including Implementing the world's first end-to-end Secure Electronic Transaction (SET) transaction in 1996; building and merging Knowledge Dynamics (KD), a regional leader in the analytics space, with a NYSE listed company. With Moving Walls, he has garnered a range of Malaysian and Regional Awards including the Most Promising Entrepreneur Award at the 2015 Asia Pacific Entrepreneur Awards (APEA).
Srikanth Ramachandran
Group CEO
Moving Walls Sdn Bhd
As a one time budding TV host, this part-time singer wannabe is now the full-time chief storyteller as the head of marketing services at Digi where he oversees integrated brand and marketing communications. Having started his career in advertising, he has worked on some of the most iconic brands across the region in Singapore, Indonesia & Malaysia. He is known to be a passionate marketer who is at ease with complex brand strategies as well as implementing agile cross-platform marketing campaigns. This seasoned marketer is also a serial winner at international creative and marketing effectiveness award shows.
A marketing trailblazer in the technology & telecomms industry, Fernie has been creating high-impact, award-winning campaigns throughout her 16-year marketing career. As a recipient of both Axiata's CEO and Chairman Awards , Fernie leads the charge for 10 brands across the region, embracing the data-driven marketing revolution and continues to be a disruptive force in the local and regional marketing landscape.
Fernie Jasmine Abdul Ghani
Head of Group Marketing & Brand
Axiata
Assoc. Prof. Dr. Karling Lee graduated with a PhD in Human Resources Management in 2008 from USM. Since then, she has been actively supporting and assisting companies in HR consulting and talent management both locally and abroad. She is also a Certified HR management professional (HRMP) from the Society of Human Resource Management, USA. Assoc. Prof. Dr. Karling has been with INTI International University and Colleges for nearly 8 years, and was previously part of the senior management team in INTI Penang (5 years). Her publications on cross generation management can be found via academia.edu as well as Google Scholar.
Associate Professor Dr. Karling Lee
INTI International University
Knorex is an Ad Tech company focused on Precision Performance Marketing technologies and solutions. Prior to Knorex, he was with Publicis Media for 13 years working across Malaysia, Singapore and China. He has worked as a media planner, strategy director and operations lead before going on to launch Performics Malaysia, tripling the staff strength and winning new business since its inception. Stan is also an active participant in industry events, having launched the first MDA digital awards for the industry in 2014.
Stan Chew
Head of Sales APAC
Knorex
A seasoned marketer with over 20 years experience in Sales & Marketing spanning FMCG, Financial Services and now Education, Tim has worked with top brands at Nestlé, Citibank and Standard Chartered and is now Vice President Marketing at Inti International University and College. Before Inti he was Head of Marketing at Standard Chartered Bank for five years. He has Sales and Marketing in his DNA. As a little boy, he started selling his Matchbox toy cars to buy Enid Blyton story books.
Timothy Johnson
SVP of Marketing Product & Partnerships
INTI International University & Colleges
Khoo Kar Khoon
Director
MCIL
She is the mastermind behind Circles. Life brand messaging and communications that drive the company goals through campaigns and promotions. She also oversees and creates content for Circles.Life's website and mobile app. Currently, she is actively involved in Circles. Life international campaigns that will be launched in several new markets in Asia and beyond.
Megan Yulga
Regional Senior Campaign Manager
This bold marketer is never afraid to fail and get back up again. Tai's over 15 years of experience in the industry has spanned multiple disciplines including marketing, communications, branding partnership and more. Prior to joining Maxis he held leadership roles in agencies in both Malaysia and Singapore.
Tai Kam Leong
Head of Branding & Partnerships
Maxis
Lai Shu Wei
VP, unifi Marketing & Communications
TM Berhad
Chai Hui Fung
Regional Marketing Director
Nando's Chickenland Malaysia
Linda Hassan
Senior Vice President of Marketing
Domino's Pizza Malaysia & Singapore
She is an experienced marketer with a demonstrated history of working in the consumer goods industry, especially in the food and drinks categories. Skilled in Marketing Management, Integrated Marketing, Brand Architecture, Management, Commercial Management and Product Innovation. In this role, Imun covers the development and brand management of the Munchy's portfolio of brands for both Malaysia and Singapore.
Lim Imun
General Manager
Marketing, Munchy's
Abhishek, currently Chief Digital Officer at Invictus Blue group, has more than a decade of digital experience across a wide spectrum of industries, including FMCG, Banking, Telcos, QSR, Real Estate and Automotive among others. Having been in Malaysia for more than 7 years, he has worked intricately with large global and local brands alike, building effective brand stories with digital as the key delivery vehicle. He has successfully led multiple award-winning campaigns both locally and regionally. He is a strong proponent of the belief, that digital disruption is indeed a means to an end, to drive real business outcomes, and firmly advocates the need for effectiveness coupled with efficiency while the world seems too obsessed with just efficiency alone. Logic is great, but one needs transformational story-telling to create the magic that paves the way for the future. That's why story-telling is key, stories have stood the test of time since the beginning of humanity, and they will continue to hold the power over us, regardless of how giant the technological strides.
Abhishek B
Chief Digital Officer
Invictus Blue
Stephanie Caunter
Head of Marketing
ada
Hasnain, as a media investment professional, has donned the role of a trusted advisor and strategist for C-Suite leaders advising them on the allocation and monetization of the advertiser's multimedia budget for major media agency groups with his last stint being in Dentsu Malaysia. Currently, he is the regional APAC marketing head for foodpanda based in Singapore where he mainly managing their offline activities and creating analytics and measurement frameworks to track their marketing budgets. His expertise includes insights based, strategic investments and measurement across media channels including programmatic, technology and content with media partners and advertisers.
Hasnain Babrawala
APAC Head of Marketing
Offline Channels, Food Panda
Siti Suhaila Abd Hamid
Category Head of Foods
Unilever Malaysia
Evelyn Low
Senior Manager Shopper & Trade Marketing
Etika Sdn Bhd
Roy has 15 decorated years of experience in digital projects with a proven performance track record of success. He is currently the Head of Digital at Berjaya Sompo Insurance. Prior to this, he was the Head of Digital for 4 years at AXA General Insurance Malaysia, having grown the team to 14 and delivered an average of 90% year-on-year business growth. He is extremely passionate about digital marketing and the prospects of setting up new "start-up" initiatives, uniting teams in his quest. Over the years Roy has directly managed in-house ad buy on Google and Facebook with an accumulated ad spend of more than.
Roy Siew
Head of Digital
Berjaya Sompo Insurance Berhad
George Ang
Owner, A&W Malaysia
Director & CEO, Inter Mark Resources
Prashant Kumar
Founder & Senior Partner
Entropia
Graham Lim
Director, Marketing (Malaysia)
F&N Beverages Marketing Sdn Bhd
A growth hacker and integrator, Andrew Pinto has been in the advertising and communications industry for 18 years, helping build, transform, and develop brands. Fueled by passion and curiosity, his experience has led him from developing point-of-sales materials and regional music platforms to strategising international positioning for Malaysia. In his present role as Head of Marketing at Malaysia's Largest Marketplace, he transforms challenges into opportunities by focusing on the needs of the consumer - melding data, strategy, creativity and technology to deliver value to the platform's users.
Andrew Pinto
Head of Marketing
Mudah.my
Jinn Heah
Senior Manager
Insights & Analytics, Pos Ad Media
Organising Chairman
PROF HARMANDAR SINGH
Master of Ceremonies:
Tim Johnson, SVP of Marketing
Product & Partnerships
INTI International University & Colleges
Opening Keynote:
10 crazy things I've done at Gojek
VJ Anand - Senior VP of Creative
Executive Creative Director, Gojek
VJ grew Gojek's internal creative team to over 100 people in two years. His team handles creative communications for more then 20 products and content that attract up to four million views per day. He helped Gojek attain cult brand status by humanizing data into breakthrough marketing ideas. VJ was a key driver in rebranding Gojek from a Jakarta-based ride-hailing service to Southeast Asia's leading Super App. Discover his secret to building cult brands with a dose of crazy.
Power Panel Discussion
FOCUS: FAST-FOOD MARKETING



Chai Hui Fung - Regional Marketing Director.
Nando's Chickenland Malaysia Sdn Bhd
Linda Hassan - Senior Vice President of Marketing, Domino's Pizza Malaysia & Singapore
George Ang - CEO A&W Malaysia and Inter Mark Resources Sdn Bhd
Moderator:
Hasnain Babrawala – APAC Head of Marketing – Offline Channels, Food Panda
9.50am

Trends and changes come fast and furious in the quick service world, and it looks like they will not slow down in 2020. From increased menu diversification to delivery expansion, contrasted with potentially slowed growth in terms of unit numbers, the year promises new opportunities, through streamlining operations to keep companies in the black. The key to this equation is balance. With our esteemed panel, find out what makes the QSR world tick as we delve deeper into the nuances of this complex marketplace. We will cover topics including consumer trends, technology, customer experience and what the crystal ball has in store for the industry as a whole.
Srikanth Ramachandran – Group CEO, Moving Walls
Navigating the alphabet soup - 5G, PG, RTB, DOOH, LI using Hollywood movies.
11.00am

Movies inspire us to dream big. They make bold predictions about the future all the time. Many of these predictions are around the blurring line between the online and offline world - smartwatches, space navigation, targeted advertising, robot vacuums, and virtual assistants may have all been dismissed initially. But look at how we live today. Srikanth explores marketing and technology predictions made on the big screen and how they're implemented across industries.
11.30am

There is always a new path towards telco customer engagement. The long-promised concept of omnichannel, in which various distribution channels are truly integrated, is finally becoming a reality now that mobile and web are seamlessly connected, and automation and personalization are possible with advanced analytics. These factors present a chance to take customer engagement to a new level, accelerating the whole organization. To succeed in digital customer engagement, the agile processes and mind-set must be complemented by a strong technical foundation that will increase execution power and channel reach, as well as enable new use cases. Even with the three pillars of buy-in and talent, agile ways, and flexible technology in place, a next-generation digital marketing transformation will undoubtedly encounter obstacles. Listen to our power panel as they dissect, analyze and provide recommendations on the way forward in this arena.
Power Panel Discussion
FOCUS: TELCO MARKETING
Tai Kam Leong Head of Branding and Partnerships, Maxis
Lai Shu Wei VP, unifi Marketing & Communications, TM Berhad
Bernard Lee Head of Marketing Services, Digi.Com
Fernie Jasmine Abdul Ghani Head of Group Marketing & Brand, Axiata
Moderator:
Prashant Kumar Founder & Senior Partner, Entropia
Associate Professor Dr. Karling Lee
- INTI International University
GEN Z BUYING BEHAVIOUR: IMPLICATIONS TO MARKETERS
12.20pm

She wowed the audience last year so we have brought her back this year. Dr Karling is a firebrand speaker and has done deep dive research into the buying behavioral patterns of the Gen Z market. She will share stuff you'll be surprised to learn about: Gen Z likes, dislikes, and dreams. Come and listen to her brutal honesty, it is a wake up call to all marketing professionals!
Power Panel Discussion
FOCUS: FMCG MARKETING

Ms Lim Imun General Manager, Marketing, Munchy's (invited)

Siti Suhaila Abdu Hamid Category Head of Foods, Unilever Malaysia

Evelyn Low Senior Manager Shopper & Trade Marketing, Etika Sdn Bhd

Graham Lim Director, Marketing ( Malaysia), F&N Beverages Marketing Sdn Bhd.
Moderator:
Khoo Kar Khoon Director, MCIL
2.00pm

The FMCG is a notoriously fickle industry, and understanding future market trends is essential for market players to make critical, near-future decisions when it comes to new market penetration, market expansion and product development. Only when upcoming markets are appreciated can revenue-focused strategies be developed. E-commerce will continue to grow in this regard, and consumers will want premium product convenience as well. A greater focus on healthier products is also on the cards, with greater disposable incomes and millennials becoming big FMCG influencers. Sustainability is also becoming a prominent FMCG trend and population density will be a factor in this regard as well. Learn more about this multifaceted industry via the experiential learnings of our esteemed panelists as they share their insights and advice in this space.
2.45pm

Programmatic advertising accounts for more than 80% of digital ad spend. In advanced markets, brands are deploying these processes in-house for greater transparency, strategic control and cost-efficiencies. As marketers demand more accountability and precision marketing tools, we will explore the pitfalls of programmatic advertising is managed wrongly. This session will cover digital marketing optimisation, cross-channel solutions and brand safety issues.
Power Panel Discussion
FOCUS: TRANSPARENCY IN DIGITAL MARKETING
Abhishek B Chief Digital Officer, Invictus Blue
Stephanie Caunter Head of Marketing, ada

Roy Siew Head of Digital ,Berjaya Sompo Insurance Berhad

Andrew Pinto Head of Marketing, Mudah.my
Moderator:
Stan Chew Head of Sales APAC, Knorex
Shopper Marketing Trends
Jinn Heah - Senior Manager, Insights & Analytics, Pos Ad Media.
SPECIAL GUEST SPEAKER:
BRINGING YOUR BRAND ACROSS A REGIONAL SCALE
Megan Yulga – Regional Senior Campaign Manager, Circles.Life

From delighting customers in Singapore with viral campaigns, Megan will share how she injects the same brand energy into a new market with a localized twist. She is the mastermind behind Circles. Life brand messaging and communications that drive the company goals through campaigns and promotions. She also oversees and creates content for Circles. Life's website and mobile. Currently, Megan is actively involved in Circles. Life international campaigns that will be launched in several new markets in Asia and beyond.
Learnings of the Day Summary
by Timothy Johnson
Start of CMO Awards event
Malaysian CMO Conference & Awards
RM1,900 + 6% SST
(for 5 or more)
per pax
RM1,550 + 6% SST
(for 5 or more)
per pax
RM 8000 + 6%SST
(Include 4 bottles of wine OR 1 bottle Single Malt Whisky)
PREMIUM
RM6000 + 6% SST
(Include 2 bottles of wine)
GOLD
CHEQUE PAYABLE TO:

SLEDGEHAMMER COMMUNICATIONS
(M) SDN BHD 289967–W
22B, Jalan Tun Mohd Fuad 1,
Taman Tun Dr Ismail,
60000 Kuala Lumpur,
Malaysia.

Bank Transfer to
RHB Bank Berhad
2–14389–000–10505
Swift Code: RHBBMYKL

FOR ENQUIRIES:

Call Ruby / Amira
T: +603 7726 2588
F: +603 7722 5712
E: [email protected] or [email protected]